Armistice: Provocative Feminists Force Trump's Security
Three Femen activists managed to force the safety of the passage of the Donald Trump sedan in the official convoy of heads of state Sunday on the Champs-Elysees, undermining the important device deployed by the police for the commemorations of November 11 in Paris.
"The Femen" is a feminist movement created in 2008 in Ukraine. The activists of this organization defend the rights of women and are known for the provocation of their actions, often topless. Created by Anna Hutsol, among others, this group has media figures like Inna Shevchenko.
The incident was broadcast live during a global event against a backdrop of persistent terrorist threat as nearly 10,000 policemen, gendarmes and firefighters were deployed to secure the Sunday-cut capital city.
The words "Hypocrisy parad", "Gangsta party" and "Fake peacemakers" were written on their bare breasts, they had jumped over the barriers set up along the avenue at the moment the American president's car was coming up the fields. Elysee shortly before 11am.
Two activists were immediately intercepted by the police after jumping the gates. At the same moment, a third Femen, positioned only a little higher up the avenue, managed to run to the middle of the road, almost touching the official procession. This activist, who carried the inscription "Fake peacemakers", briefly stopped her arms in the air in front of the official cars.
The police headquarters confirmed the arrest of the three activists, without further details.
"France is celebrating peace with this ceremony but half of the invited heads of state are responsible for most of the conflicts in the world. We protest against the coming of Trump, Putin, Erdogan, Mohammed ben Salman, Netanyahu ", explained to AFP soon after this incident Constance Lefèvre, an activist Femen present in the public without taking part in the action.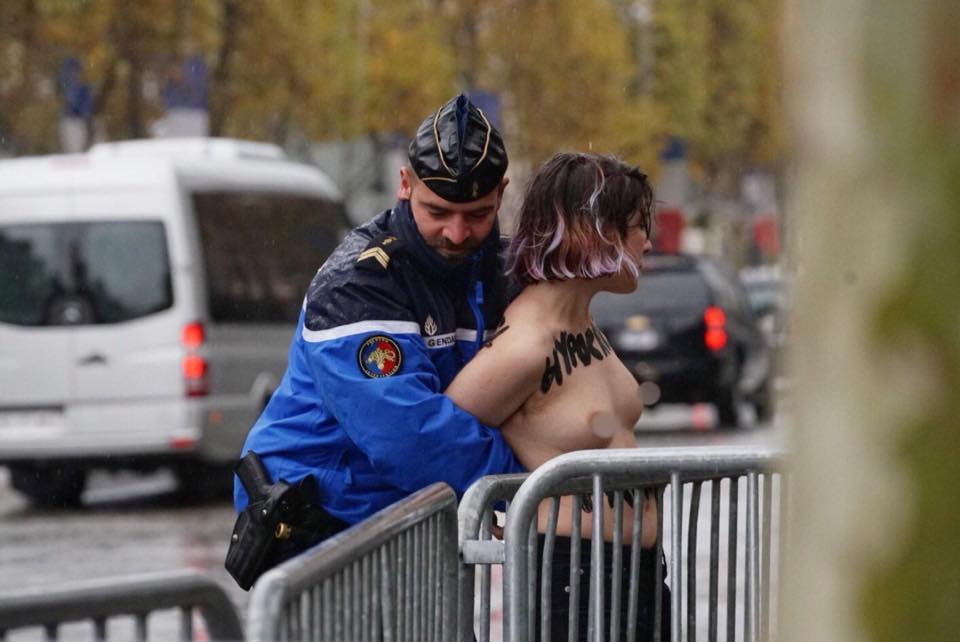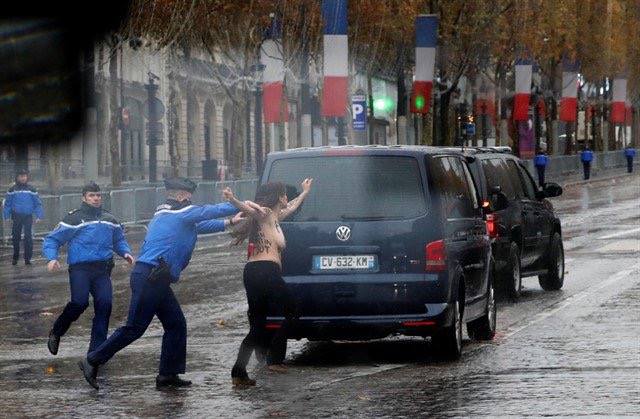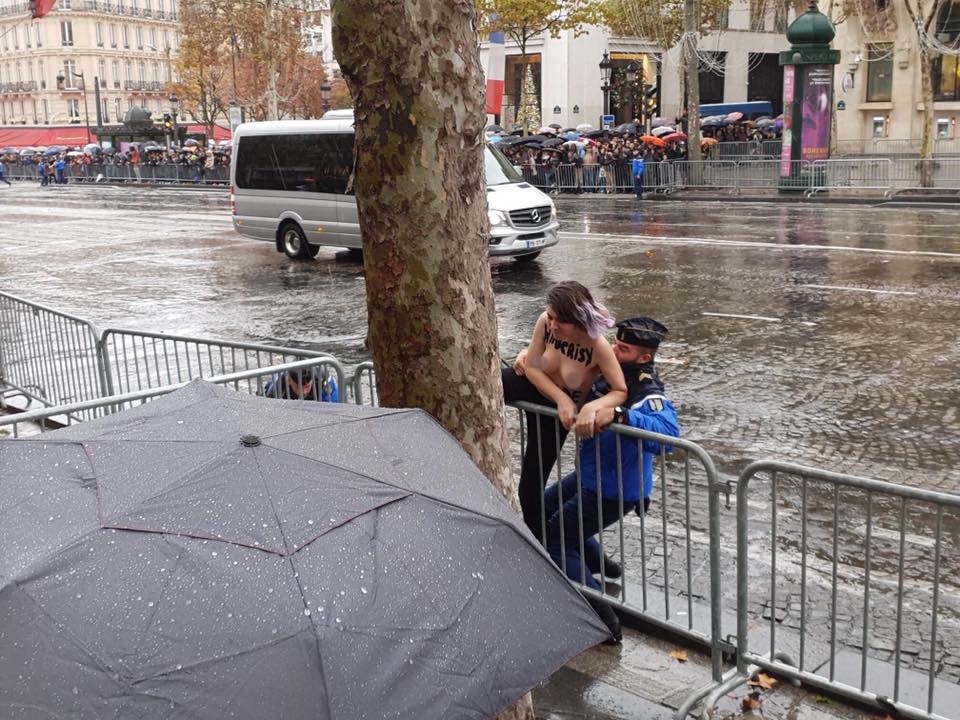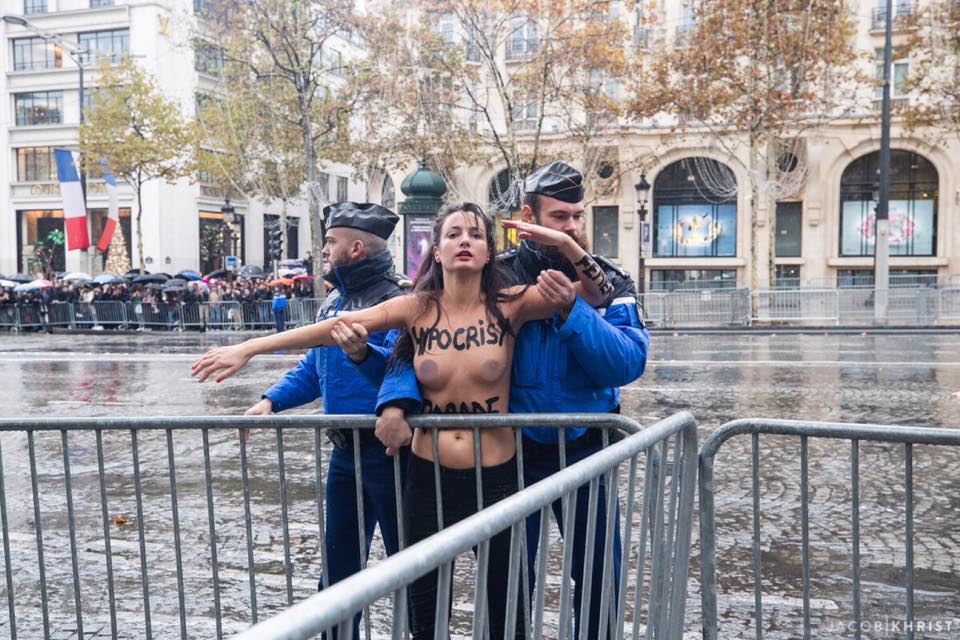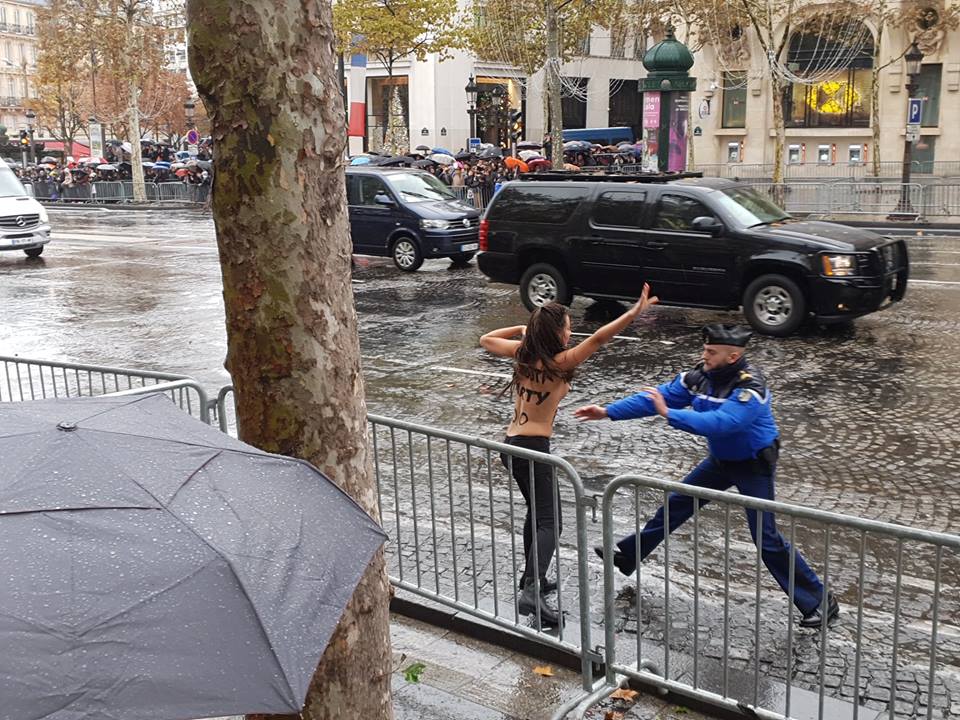 Tagged:
100 YARS
ARMISTICE
Erdogan
Mohammed ben Salmane Netanyahu
Paris
Poutine
Trump