Face to face: Macron alleviated the tensions with Trump
French president Emmanuel Macron accommodated Saturday in Paris Donald Trump while choosing a resolutely conciliatory tone on the delicate question of European defense the shortly after a very aggressive tweet of the US president.
This bilateral meeting did not begin under best the auspices. Hardly arrived at Paris, the day before at the evening, Mr. Trump indeed fustigated in a tweet the remarks considered "very insulting" of the French president who had called Tuesday with the creation of a "true European army".
Obviously anxious to defuse the polemic, the two men insisted on their close links: "We became very good friends over the years", Mr. Trump ensured. But its face was closed and the atmosphere far from the last demonstrations of complicity.
French president Emmanuel Macron ensured Saturday Donald Trump that it worked so that Europe pays more to support the cost of the defense of the continent within the framework of NATO, a recurring requirement of the US president.
The Head of the French State endeavoured to make fall down the pressure. "Our two countries are the two older allies of the world", he insisted.
"I am very happy to accommodate my friend Donald Trump. We celebrate here the friendship between our people, our armies. Our let us speak about many common subjects: Syria, Iran, trade agreements, climatic", he said to start before evoking the "European strategic capacities" and their financing.
"I also will share with president Trump the proposals made on the European strategic capacities and Europe which can more take the share of the common burden within NATO", the president stated French by accommodating Donald Trump with the Elysée palace. "I appreciate what you say on a division of the burden, you know my point of view. We want Europe strong", declared the US president, closed face.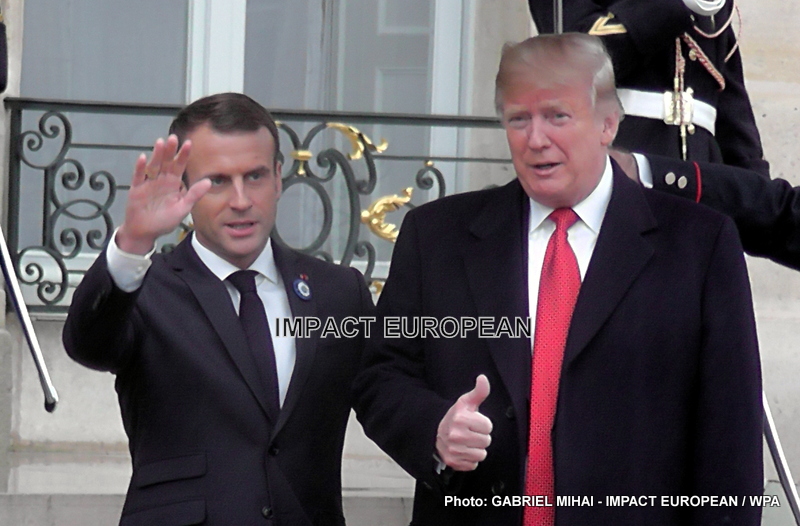 Tagged:
Donald Trump
EMMANUEL MACRON