Lucy Rose in round starting from April, will be in Paris on May 9th
Lucy Rose is auteure–compositeure–interprets British who, at 29 years, proposes his new album No Words Left. Its music, light, languorous is somewhat put rhythm into on this opus compared to the precedent 3 albums.
Born in Frimley in the county from Surrey in England, Lucy Rose begins the music while playing from the battery in the orchestra of his school. Later, it buys a guitar in a store on the way of the school, it only learns and starts to compose in the neighbourhoods of the 16 years age, is a multi–instrumentalist, exerting at the same time the battery, the piano and the guitar.
In 2008, Lucy Rose starts to compose accompanied by a group whose musicians are not other than Björn Agren, former guitarist of Razorlight, Joe Steer, former bass player of Broadcast 2000 and Sam Nadel with the battery.
Lucy Rose already left 3 albums "Like I Used To – 2012", "Work It Out – 2015", "Something' S Changing – 2017". In March 2019, it will leave its 4th "No Words left".
After the exit of its last disc in 2017, Something' S Changing, the singer announced the publication of its 4th album entitled No Words Left on March 22nd, 2019.
The album is presented as a folk repertoire of songs in which certain directed titles pop India come to be grafted with the unit, in order to vary esthetics and to bring a musical multidisciplinarity.
Alternating with a disconcerting ease the smiles and the tears, the musician Lucy Rose looks after his effects with an admirable respect for its public passed, present and future. A growing fame sees it to be essential in the world of folk India, and of which the concretization which is offered to us does not lose anything of his major quality emotional, maintained of discs out of discs by this singer with the vaporous stamp.
Lucy Rose manages to obtain a musical balance in this creation by varying esthetics while remaining in his field of predilection on the folk music in the line of musicians such as Bob Dylan, Neil Young and Joni Mitchell.
She sang for the group Bombay Bicycle Club and makes the first parts of large artists such as Ben Howard, Daughter and Pete Roe.
Lucy Rose shared "Solo (W)", another title of its fourth album which will appear, "No Words Left".
"It is the last song which I wrote for the recording", she explains. "It is as if it were the first time that I could look at behind at a period and to understand it. I had not left the darkness but I could see a light. Like all the songs of this album, that helped me in a certain manner, but this one gave the impression to me to say "they are good" and it is time to pass to another thing. I confronted many thoughts in this song, it was time to accept all finally and to better understand: – I am afraid of the morning and the evening, perhaps which I have fear of all '.
"But with that with the spirit, it is impossible to see it also black in white when you are there and you cannot prevent you from doing it…"
"During one moment, I felt that I needed to be "repaired". Then a friend pointed out the other significance to me "to be firmly fixed" and I realized that I did not want to be repaired, I wanted constantly to move, evolve, learn and live new things. I do not want to remain at the same place for always, as if I had finally very understood and now, it is all for my life.
"I always said that the music was like a therapy for me, without to have ever had therapy before. Now, I realized more than all that I could have known at which point I am incredibly grateful to have music in my life. I have the impression that the music understood me; "when I did not understand anything". This song is an excellent example of that. After the writing and listening of what was recorded, I could raise me and walk towards a better place."
After the exit of the album on March 22nd, Lucy will be in round starting from April, but will also have a stopover in Paris on May 9th.
Lucy Rose will Be of passage to Paris one May 9th with the Coffee of the Dance to make custom discover his new album No Words Left.
April 9th
London – Chapel Union
April 10th
Bristol – St George' S
April 11th
Cardiff – The Spoils
April 13th
Manchester – Stoller Hall
April 14th
Dublin – Liberty Hall
April 16th
Leeds – City Varieties
April 17th
Glasgow – St Luke' S
May 3rd
Cologne – Kulturkirche
May 4th
Brussels – Old Belgium
May 6th
Berlin – Tempodrom Kleine Arena
May 7th
Hamburg – Nochtspeicher
May 8th
Amsterdam – Zonnehuis
May 9th
Paris – Coffee of the Dance
May 23rd
Mexico City City – Foro del Tejedor
May 29th
Los Angeles – The Coffee Hotel
June 4th
Brisbane – The Foundry
June 5th
Sydney – Factory Theatre
June 6th
Melbourne – Social Northcote Club
June 8th
Perth – Social Free Club
December 4th
London – Barbican Centers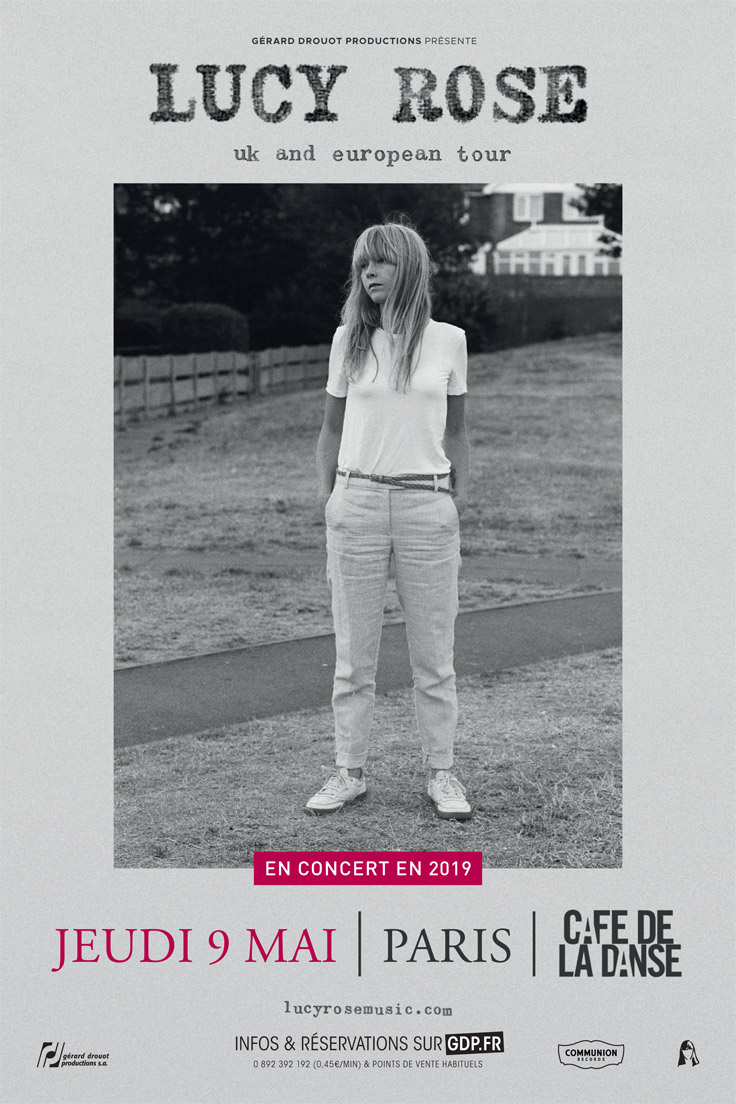 Tagged:
"Like I Used To – 2012"
"Something' S Changing – 2017"
"Work It Out – 2015"
2019
Folk
interpret British
LUCY ROSE
No Words Left
on March 22nd
the battery
the piano and the guitar
will leave its 4th album