While we have been living through a period of heatwave for ten days, Paris Plage seems the best place to rest, cool off and recharge your batteries.
This year, the Rives de Seine and the Bassin de la Villette are open to Parisians and visitors from July 18 to August 31 to offer them outdoor sports and leisure activities. After a rather dull month of July and the health crisis that affected many sectors including those of culture and tourism, this summer episode will allow you to regain a taste for life under the sun.
Although foreigners are not at the rendezvous for this edition, the city of Paris is offering this year on both sites, an initiative launched as part of the daily program "Un Eté Particulier", which runs from July 6 to September 15 and offers free cultural, sporting, educational and leisure events throughout the summer period. Children and adults will be able to enjoy an unprecedented initiative based at the same time on culture, education, sport and entertainment.
The Rives de Seine will allow you to stroll and stroll in complete relaxation, while enjoying the activities: tai chi, pétanque, table football, reading thanks to the libraries outside the walls. Deckchairs for sunbathing on the quays or in the shaded relaxation areas, mist gardens for cooling off, for children, toy library and giant games and for all, construction and board games areas, large and small. The beach is open every day from 10 a.m. to 6.30 p.m.
Bassin de la Villette, sport and games are at the center of the activities: swimming, kayaking, energy arts, as well as table football, pétanque. For the little ones, children's club, libraries outside the walls or Ludomouv '.
For the first time, Paris Plages offered "Le cinéma sur l'eau", a novelty launched on the opening day, July 18, with Gilles Lellouche's film "Le Grand Bain". Parisians were able to attend a free film screening but upon registration, from a boat in the Bassin de la Villette; each boat can accommodate between 2 and 6 people, which is part of the fight against Covid. We find here a new form of "American Drive-in reinvented in an eco-responsible version. For those who were not registered, they could watch the film from the deckchairs on the quai de Seine.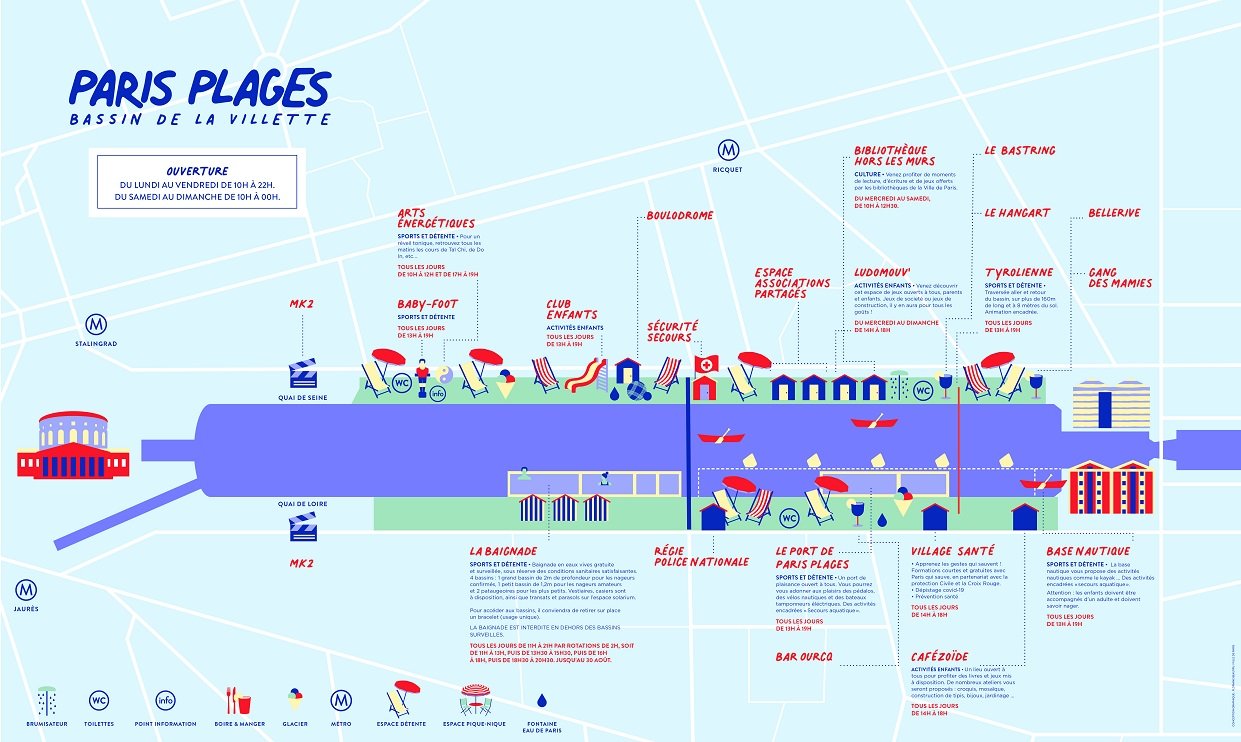 An emblematic summer meeting, Paris Plage was created by the former Mayor of Paris Bertrand Delanoe in 2001, like the town of St Quentin (02), a pioneer of this type of operation in 1996 From 2002, a urban artificial beach was installed on the Georges Pompidou route between mid-July and mid-August. Since then, each year, sand (graciously made available to the capital by the Lafarge group between 2002 and 2016), palm trees, lawns, deckchairs, open-air cafes, a climbing wall, a swimming pool, a misting area giants, a water labyrinth, trampolines, a pétanque court … are installed there to offer a place of relaxation for all Parisians, suburbanites and tourists. Each edition has its own set of novelties with a changing theme, places added such as the Place de l'Hotel de Ville transformed into a sandy beach with games and pools to give Parisians in difficulty a moment of vacation, but also creation. of the Bassin de la Villette site in 2007, which since 2017 has 3 pools: one 40 cm deep, a second 1.20 m and the large one of 2.20 m, which can accommodate 300 people at the same time.
Faced with this success, many French cities including Metz, and foreign capitals including Brussels, Jerusalem and Tokyo have taken up the idea.
THE RULES TO BE RESPECTED ON PARIS PLAGES
-Respect of barrier gestures, for health and those of others.
– Wearing a mask is compulsory.
– Hand washing (4 sanitary points on Paris Rives de Seine and 3 on the Bassin de la Villette).
– Use of sinks equipped with soap and hydro-alcoholic solutions at each activity at the Bassin de la Villette as well as at Paris Plages Rives de Seine.
– Hydro-alcoholic gel offered at the info points as well as at the rolling-bars signed on the 2 sites.
– Bamboo walls put in place and systems limiting water dispersion, via revegetation, for misting.
– Distance to respect in the queues of animations by stickers.